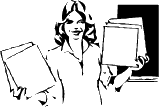 Directions

1. Use the links on the research page to find out as much as possible about your chosen species. Find out where it lives, how it lives, and what it needs to survive. Feel free to take notes in your notebook.

2. Use the Endangered Species worksheet to list three ways the species becomes endangered and three ways it can be saved from extinction. Just click on the worksheet link and print it out.
3. Use the information from your completed worksheet to help you create an advertisement. Your advertisement should make readers knowledgeable about the species featured and convince them to want to take part in efforts to help save it.
See Advertisement page for more information about completing your advertisement.
4. Be prepared to share and discuss your completed advertisement.
5. Have fun!